THE DOG CHASES THE BALL, THE TIGER BITES THE THROWER!
The Honora Zen Monastery is a place for contemplating on the true self through a very simple hermitagelike life-style. Everyone concentrates his consciousness on the given task while working. To work is to cleanse the mind. Work is a opportunity to meditate and become awakened to the real self. A small event in daily life can become an important moment of awareness for one who is in great darkness. Only through your determined and thorough examination of body and mind, worth and harmony can be formed.
The Insopor Zen Academy is a nonprofit association.
Our purpose is to awaken each and everyone's true nature and to share compassion with the community. Welcome to the Zen Monastery in Switzerland.
Life and death are the great matter. Be watchful of your time. All is impermanent and passes swiftly away. Time waits for no one.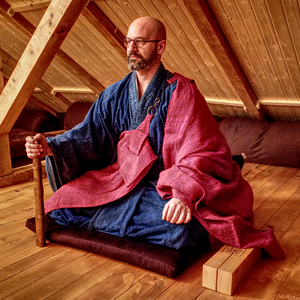 Zen Monk Marcel Reding
In the year 2016 we opened the gates to the public. After ten years of continuous reexamination of the words and actions of the wise and holy Ones in japanese and south-korean zen monasteries, Zen Monk Marcel Reding founded, in mutual reliance with the clergy and laity, the Insopor Zen Academy in Switzerland in 2014.
He absolved a pilgrimage through Japan (3000 miles) doing traditional almsround as a way of thanks for the ten-year training as a zen monk.
As founder and head monk he is in charge of the Honora Zen monastery in Reichenburg and the Eremita Zen temple in Einsiedeln.
CONTACT
If you have any questions, please contact us via email or telephone and we will get back to you as soon as possible. We look forward to hearing from you.
Address
Honora Zen Monastery
Zen Monk Marcel Reding
Ussbergstrasse 26
8864 Reichenburg
Switzerland
Phone: +41 78 408 10 89
E-Mail: honora@zen-tempel.ch
Company Registration: CHE-491.282.797