THE ZEN HERMITAGE
Life and death are the great matter. Be watchful of your time. All is impermanent and passes swiftly away. Time waits for no one.
Welcome to the zen hermitage. You and everyone with sincere intention is welcome to meditate for 4 Weeks. Only through your determined and thorough examination of body and mind, worth and harmony can be formed.
Please note that during the stay you will have a very simple and ascetic life.
The Great Way is gateless, approached in a thousand ways. Once past this checkpoint you stride through the universe.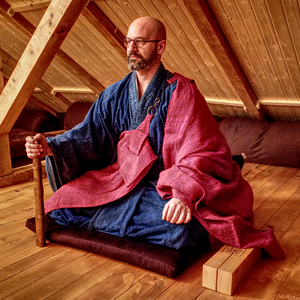 Zen Monk Marcel Reding
In the year 2015 we opened the gates to the public. After ten years of continuous reexamination of the words and actions of the wise and holy Ones in japanese and south-korean zen monasteries, Zen Monk Marcel Reding founded, in mutual reliance with the clergy and laity, the Insopor Zen Academy in Switzerland in 2014.
CONTACT
If you have any questions, please contact us via email or telephone and we will get back to you as soon as possible. We look forward to hearing from you.
Address
Eremita Zen Temple
Zen Monk Marcel Reding
Etzelstrasse 38
8840 Einsiedeln
Switzerland
Phone: +41 78 408 10 89
E-Mail: eremita@zen-tempel.ch