BLESSINGS
Every day is a good day.
An individual ceremony and blessings give your event, for example your dedication ceremony for a place, building, a business or facility etc. a clerical, formal and public frame to consciously carry out and process this important event. Your ceremony will be held by a Zen Monk. It is an expression of your gratitude and a request for a safe and harmonic cooperation between people in private and business life.
Since there are no compulsory and complex rituals for the ceremony, we will determine its sequences in accordance with your wishes.
In preparation for your individual ceremony we recommend a short templestay at the Zen Temple.
We will recite the "Logos from the Heart" and give a short speech.
To symbolize the transience of life and death, each of those present can burn a pinch of incense at the end of the ceremony.
For more specific information regarding duration of the ceremony, schedule, additional texts and speeches, we will gladly discuss it with you personally.
Please note that the number of participants does not matter.
We suggest a donation of  700.- CHF or by agreement (without templestay & travel expenses). Every single donation is very welcome and will be diligently used for the Zen Temple and enables us to provide a place for meditation.
If you like to have zen monk Marcel Reding & zen monk Alain Lafon to guide you through the ceremony, the oblation will be 2500.- CHF or by agreement (without templestay & travel expenses).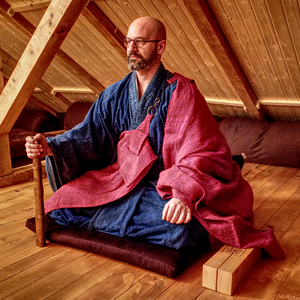 Zen Monk Marcel Reding
After ten years of continuous reexamination of the words and actions of the wise and holy Ones in japanese and south-korean zen monasteries, ordained Zen Monk Marcel Reding founded, in mutual reliance with the clergy and laity, the Insopor Zen Academy in Switzerland in 2014.
Zen Monk Alain Lafon
Zen Monk Alain M. Lafon has lived for three years as Digital Nomad with only a backpack. After many years of formal daily Zen practice and an ordination in 2011, he lead the daily meditation as well as retreats. In 2015 he joined the Insopor Zen Academy. Now, he is head monk of the Lambda Zen Temple.
CONTACT
If you have any questions, please contact us via email or telephone and we will get back to you as soon as possible. We look forward to hearing from you.
Address
Insopor Zen Academy
Headquarters
Sagenplatz 7
8840 Einsiedeln
Switzerland
Phone: +41 78 408 10 89
E-Mail: eremita@zen-tempel.ch